THE UNIVERSITY OF LETHBRIDGE

The University of Lethbridge was established in 1967 as one of Canada's centennial universities, and grew out of a junior college system originally operated by Lethbridge Community College. From a student body of approximately 600 that first year, the University has grown to more than 7,000 students on three campuses

The institution is a primarily undergraduate university with masters and doctoral degree granting authority in several faculties and schools. Innovation in teaching, research and technology is among the University's core business values. An increasing emphasis on research results in approximately $5 million per year in funding from a variety of provincial and federal sources.
UNIVERSITY ATTRACTS STUDENTS FROM AROUND THE GLOBE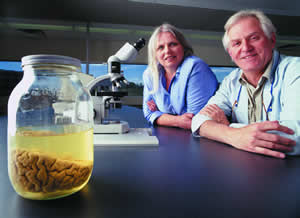 Robbin Gibb, the U of L's first Ph.D student
Dr. Bryan Kolb, Neuro Detective Inc
The University of Lethbridge primarily serves the residents of southern Alberta, but draws students and employees from several international locations as well as across Canada. Approximately 70% of the student body comes from an area outside of Lethbridge. International students come from more than 37 countries. The University of Lethbridge serves approximately 1,000 Faculty of Management students in the Calgary and Edmonton markets through campuses in those cities.
President:
Dr William H. (Bill) Cade, President and Vice-Chancellor,
Professor of Biological Sciences (403) 329-2201
Vice-President, Academic:
Dr. Seamus O'Shea (403) 329-2202
Vice-President, Finance and Administration:
Nancy Walker, CA, MBA (403) 329-2207
Associate Vice-President, Research:
Dr Dennis Fitzpatrick (403) 329 2747
Media and Communications inquiries:
Bob Cooney, Communications Officer (403) 382-7173
DYNAMIC CONTRIBUTOR TO THE LETHBRIDGE ECONOMY
The University of Lethbridge employs more than 1200 people annually (faculty, support staff, student researchers and sessional lecturers), making it the second largest employer in the community, following the Chinook Health region. With an annual operating budget in excess of $70 million, the projected economic benefits from the University of Lethbridge are significant, ranging from 130 million to 150 million over the course of a calendar year.
AMBITIOUS PLANS FOR THE FUTURE
The University of Lethbridge has several projects under consideration for the future - a new art gallery, a building for the Faculty of Management - and is currently working with the community to develop a long-term proposal for a combined field house/ wellness centre to replace an aging and small gymnasium facility. Academic programming continues to expand, with collaborative agreements in place with numerous other colleges and universities. Research projects, and funding for those projects, continues to be generated at a significant volume.
HIGHLIGHTS
Home of Alberta's largest art collection, which is also Canada's largest University art collection, with more than 13,000 items valued at more than $34 million.
Home of Canada's only Addictions Counselling degree program through the School of Health Sciences
Home of Alberta' only Rhodes Scholar, in 2002, Russell Goodman
New 200,000 sq ft library opened in September, 2001
New 50,000 sq ft neuroscience research centre opened in November, 2001
Nationally (and internationally) recognized research is taking place in all faculties and schools in the areas of Parkinsons and Alzheimers disease, brain injury and stroke recovery, health care in rural areas, death and dying issues, motion capture research, senior citizens balance research, religion and teen issues, politics, government and taxation issues, hockey violence, biological sciences and water quality.... And much more.
PUBLICATIONS
&lsquot;The Legend&rsquot; is a monthly employee publication produced during the academic year (free subscription; contact communications@uleth.ca to be placed on the mailing list)
The University of Lethbridge's &lsquot;Annual Report To The Community&rsquot; is distributed to more than 250,000 households province-wide in September. Please e-mail communications@uleth.ca for a copy)
The &lsquot;U of L Journal&rsquot; is for alumni and friends with more than 15,000 copies sent world-wide.
A PROUD SPONSOR OF INNOVATION ALBERTA
We are very pleased to be involved with the Innovation Alberta Omnimedia Project. As an educator of future leaders and a producer of research, we welcome the opportunities to explain to a broad audience, the nature of our work here and its impact on the community.
TO CONTACT THE UNIVERSITY OF LETHBRIDGE
Website: www.uleth.ca
Daily News and media relations website: www.uleth.ca/css
E-mail: communications@uleth.ca