Backstage at Innovation Alberta
Cheryl Croucher, Porcupine Stone Productions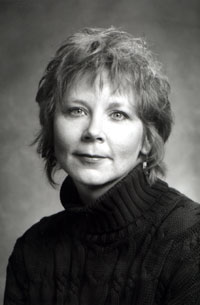 Cheryl Croucher, the host and producer of Innovation Alberta, was born in Edmonton and graduated from the University of Alberta with a BA (Special) in Political Science and Sociology.
As a writer and broadcaster, Cheryl brings over 30 years media experience to the Innovation Alberta Omnimedia Project.
Cheryl's writing career began during her student days at The University of Alberta with articles published in The Gateway and the underground newspaper Poundmaker.
Not that she intended to be a journalist. Cheryl was teaching piano and studying music when a summer job took her through the doors of the CBC. What followed was a 15 year stint with the CBC where Cheryl worked both behind the scenes and on-air in Radio Current Affairs,on programs such as Edmonton AM, Alberta Today, Wildrose Country and The Saturday Morning Show. There she developed her skills as a researcher, producer and broadcaster. On air, Cheryl built a strong reputation as a nationally syndicated consumer commentator and later as CBC Radio's first environment commentator.
Interests in photography and music helped Cheryl launch into video production in the mid 1990's. Through her company Porcupine Stone Productions, she has produced a number of videos on forestry and environment issues and has composed the music scores for most of her videos. During this time she also worked as a consultant to industry and government and continued writing magazine articles on environmental concerns. In 1997, Cheryl found herself back in radio, producing EcoFile along with David Dodge at CKUA Radio.
In the fall of 1998 Cheryl took on the production of Heritage Trails. For this very popular series on CKUA Radio, Cheryl researched, wrote and produced 500 vignettes on various aspects of Alberta's history. The series was sponsored by the Alberta Historical Resources Foundation and now forms the basis of an award winning educational website developed by the Heritage Community Foundation.
Her next project, the science program Innovation Alberta, won Cheryl an award for excellence in journalism from the Alberta Chamber of Resources. This was an extra special honour since the ACR has only recognized the media twice before in its 66 year history. The success of this series led to the development of the independent web based Innovation Alberta Omnimedia Project.
Cheryl is well known throughout Alberta because of her media presence and community work. She was a judge four times for the Emerald Awards for Environmental Excellence and presently sits on the foundation's nominating committee. She also sat on the Epcor Water Advisory Committee until 2001 and has been a member of the Alberta-Pacific Forest Management Task Force since 1992. She chaired the Edmonton chapter of Canada Trust's Friends of the Environment Foundation from 1996 to 1999, and was a member of the former Environment Council of Alberta's Task Force on Economic Instruments to Minimize Waste.
Something of an urban farmer, Cheryl loves working in her garden. Blueberry, gooseberryand raspberry bushes line one side of the yard, while vegetables and flowers grow in the rest the garden. Current projects include finishing the backyard pond and planting creeping thyme between the stepping stones.
Cheryl lives in Edmonton with her family and animal menagerie which includes two dogs, a cat, and five fat goldfish overwintered from the pond. No doubt, if she could keep chickens, she would.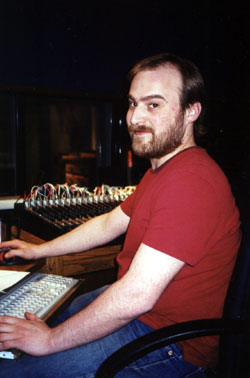 Scott Franchuk, Riverdale Recorders
The Innovation Alberta Omnimedia webcasts are produced and mixed at Riverdale Recorders in Edmonton. The sound studio is owned by Edmonton recording engineer Scott Franchuk.
Scott started Riverdale Recorders in 1995 and has produced a number of CD's and other projects. He has television audio experience with Shaw Cable and Videon. And he was also a technical producer at CKUA Radio. Over the years, Scott has worked with Cheryl Croucher of Porcupine Stone Productions on segments for EcoFile, all the Heritage Trails vignettes and now Innovation Alberta.
Music productions mixed at Riverdale Recorders include cd's for Jen Kraatz and the Whispers, two Old Reliable cd's, the Almost Leather Band, Mike McDonald, Captain Tractor, and many, many demos for aspiring bands.
Written reviews commending Scott's brilliance as a recording engineer have been published in Chart Magazine and See. Contact Scott at riverdalerecorders@yahoo.com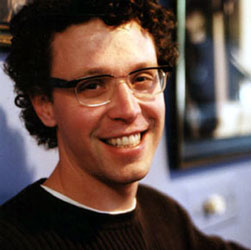 Paul Bellows, Yellow Pencil
Paul Bellows is a musician and web developer working in Edmonton and throughout Canada. Paul and Cheryl met while he was developing the CKUA Radio Network website, which won a National Post/Design Exchange Silver Medal. Currently, Yellow Pencil is involved with the Alberta Cultural Action Network doing research on the Cultural Sector in Alberta and with Heritage Canada, developing technology and content for the Canadian Cultural Content Online Project. Yellow Pencil also works with a number of arts groups in Alberta, assisting them with web strategy and development, including the Alberta Arts Festival Association, the Comedy Arts Festival, the Edmonton International Street Performers Festival and many more. Paul also worked with the Capital Health Authority and IBM to develop content publishing standards as well as Virtual Tours for the Capital Health web site. Yellow Pencil is also a developer and partner in Groupie Corral, a set of web-based communication tools for artists.
Paul is also a critically acclaimed songwriter, his first record "Juliet Pauses" being chosen for Performing Songwriter Magazine's Top 12 DIY list in 1999 and his second record "Like He's Famous" being signed by Seattle-based Cake Records. Find out more about web at YellowPencil.com and more about music at PaulBellows.com.
The Innovation Alberta site was designed and programmed by Paul along with Mike Bridge at BridgeCanada, who developed a MySQL/PHP content management system for the site that handles all of the Program related content.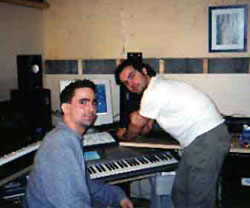 Chris Andrew and Rubim de Toledo, Theme Musicians
The theme for Innovation Alberta was composed by two Alberta musicians, Rubim de Toledo and Chris Andrew. You may already know these talented fellows from their days with Maracujah!
Rubim plays bass and Chris exercises his artistry as a keyboardist. Rubim and Chris now play in the popular band BOMBA and their latest CD has been selling very well. Look them up at bombaweb
Both Chris and Rubim are graduates of the jazz program at Grant MacEwan College in Edmonton.
The theme for Innovation Alberta was composed entirely through the magic of computer technology. What I wanted was a driving rhythm, and above all, tabla drums. Along with sound effects like a sonar, buzz and something akin to a digitized didgerydoo, these are the essential elements of the Innovation Alberta theme.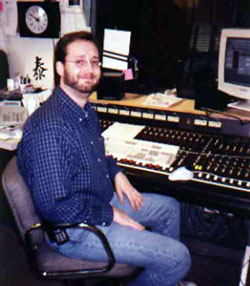 Paul "Duke" Paetz, Composer
The stings played on Innovation Alberta are the work of musician Paul "Duke" Paetz. Stings are the short musical transitions played between items. Paul is well known in the Edmonton area for his percussion work with the Almost Leather Band. He also wears the mantle of recording engineer at Riverdale Recorders and CKUA Radio.
Born in Drumheller, now a resident of Edmonton, Paul picked up the drums at age 14 when an older brother got a drum kit. Frustrated with trying to learn piano from his mom, Paul found immense relief bashing away on his brother's drums. He played his first gig at 15 in a hall in North Edmonton.
Paul has played percussion with numerous bands over the last twenty years, including Jr Gone Wild and Jerry Jerry and the Sons of Rhythm Orchestra. He's also worked with singers Terry Morrison, Luanne Kowalek and Mike Park.
You can hear Paul's artistry on the Almost Leather Band cd "Another Picture". He also sings on the Old Reliable cd. Check out almostleatherband.com

Sue Hauke et al, Karo Design
Sue Hauke on designing the logo for Innovation Alberta: "Do you have a brilliant idea… a wonderful invention…?" This was a question I came across in the content of the original Innovation Alberta web page. As I considered how to approach the development of a suitable graphic, the challenge was to include the multitude of areas where brilliant ideas, innovation and wonderful inventions might arise – including forestry, biology, medicine, ecology, engineering and space exploration. Though diverse, these inventions share a common ground — that of beginning with an inspiration. Rather than resorting to a literal depiction of specific industries, I focused instead on the essence of inspiration: seeds of an idea being planted and properly nurtured, ultimately blossoming into brilliance. The painterly representation of Mother Earth lends an approachable, human side to the floating, changing line-art references to science, engineering and technology. Find out more at karo.com.
The Karo Team
Sue Hauke, Billy Burgos and Ross Anderson comprise the team behind the animated Innovation Alberta illustration. Sue developed the concept, Billy painted the background illustration and Ross designed the Flash animation. Go, team, go!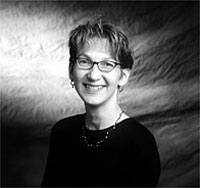 Sue Hauke, Designer
A classically trained flautist, Sue is also a dynamic designer who brings a keen eye for detail, a passion for typography and a wealth of experience to the Karo team. In 13 years of working in her creative field, Sue has amassed a great deal of savvy designing everything from annual reports to CD packaging to an annual travel publication for Tourism North that she designed and art directed for four years. Since joining Karo in 2000, Sue has enjoyed the variety of projects commissioned by an eclectic client base.
When she's not working, Sue is a dedicated runner, plays the flute in a community orchestra, composes piano music and, when Calgary weather permits (!), she is a serious gardener.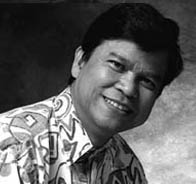 Billy Burgos, Illustrator
Billy has a well-deserved reputation as Calgary's most versatile illustrator. An excellent and perceptive interpreter, his strength lies in his ability to translate half-formed ideas and instructions into beautifully rendered illustrations. After graduating with a bachelor of fine arts from the University of Santo Tomas Aquinas (Manila), Billy worked in the Philippines as an artist, then as an industrial designer and illustrator.
After moving to Calgary in 1978, Billy's skills were sought after by many major advertising agencies. Billy has been with Karo as the in-house illustrator since 1985. A dedicated artist, Billy devotes his spare time to painting and travelling.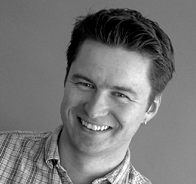 Ross Anderson, Web Developer
Ross is an experienced production artist specializing in Web design and multimedia presentations. Ross's skill is brought to bear in many different roles at Karo: building Flash animations for the Web, programming HTML pages, delivering Director presentations, or designing the interface and navigation for web sites. After graduating in 1998 from the Multimedia Design program at Sait, Ross taught Web Design and Flash there. He also worked for Access Technologies at SAIT developing prototype Web sites for online course delivery. Ross joined Karo in 1999 and has contributed to many ongoing and new projects. A competitive mountain biker, Ross also enjoys snowboarding and playing drums in an indie rock band.