ALBERTA CONSERVATION ASSOCIATION


The Alberta Conservation Association (ACA) was formed on April 1, 1997 and is a charitable organization, committed to the conservation and enhancement of Alberta's natural biological resources.

The ACA is a Delegated Administrative Organization under the Alberta Wildlife Act, specifically
Section Two (2) of the Wildlife Regulations. The Alberta Wildlife Act provides the ACA with powers, duties and functions enabling it to carry out activities related to population inventories, development and enhancement of populations and habitats of wildlife, fish and endangered species in Alberta. It also includes the ability to establish and collect enhancement levies on hunting and angling licences in support of that work.

The organization delivers a wide range of projects, in eight program areas. The ACA has a highly qualified staff, and the flexibility of a Non Government Organization (NGO). ACA Staff are housed in Alberta government offices, which aids in information transfer and is cost effective, which helps direct more funds to on the ground projects. The ACA has a close working relationship with the Province of Alberta, a regional pulse on the landscape, a broad based member group, and a significant group of corporate partnerships. The ACA employs 75 staff across the province. Managing Director is Stephen Hull.
FOCUS ON HABITAT AND SUSTAINABLE MANAGEMENT
The ACA's core business is to contribute to sustainable management of Alberta's wildlife and fish populations and the habitat upon which they depend. The ACA recognizes that Alberta Environment has the ultimate responsibility for management of those resources. The ACA has no role in regulating land or resource use.
LONG RANGE GOALS
In pursuit of the Vision and Mission, four broad long-range goals will be addressed:
Goal 1: To ensure habitat securement, maintenance, and enhancement;
Goal 2: The provision of biological and population data for use in Management planning;
Goal 3: The perpetuation of sustainable use of wildlife and fish resources;
Goal 4: To broaden the base of financial and political support for natural biological resource Management.
ACA BOARD
A 14 member Board of Directors governs the ACA and the Managing Director has responsibility over the complement of staff and the day to day business affairs. In accordance with the bylaws of the Alberta Conservation Association, an election for vacancies on the Board of Directors is occured December 10 to 21, 2001.
Terry Birkholz - Chairman
Don Pike - Secretary Treasurer
Directors: Jacob Handel, Gerald Gustavson, Ken Ambrock, David Gursky, Robert Scammell, Glen Semenchuk, Mark Boyce, Donald Onofrychuk, Lee Foote, Kelsey Kure, Martin Paetz
RECENT PROJECTS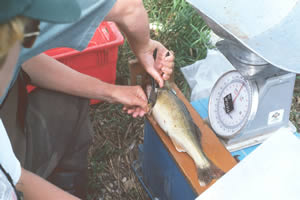 Funding for ACA projects comes from the fees for hunting and angling licences. During the current fiscal year, approximately 6.9 million dollars have been generated for conservation efforts in Alberta.
Some of the current projects the ACA is supporting include:
Effects of Grazing and Habitat Configuration on Sharp-tailed Grouse Nest Success and Brood Survival
Behavioral and Demographic Responses of Bllack Bears to Spring Baited Hunting
Riparian Habiat Assessment Project
Lynx Creek Bull Trout Project
Hay-Zama Wetland Monitoring
Athabasca River Rainbow Trout and Arctic Grayling Stock Assessment
Lethbridge Prairie Rattlesnake Stewardship Project
Northern Watershed Project
TO CONTACT THE ALBERTA CONSERVATION ASSOCIATION
Website: www.ab-conservation.com
Email at info@ab-conservation.com

Alberta Conservation Association
P.O. Box 40027 Baker Centre Postal Outlet
Edmonton, Alberta
Canada
T5K 2M4

Telephone: toll free at 1-877-969-9091 or call us at 780-427-5192.
Fax: 780-422-6441